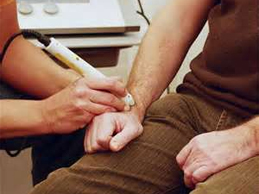 Treating your musculo-skeletal and orthopedic dysfunctions since 2009, Contact Physiotherapy is well-known amongst the Electrotherapy Clinics in Preston, UK. We use Electrotherapy for Pain Management, having both short-term and long-term benefits.
Electrotherapy is the use of electrical energy as a medical treatment. The use of electrotherapy has been researched and accepted in the field of rehabilitation. We often use Electrotherapy to assist in the treatment of ligament, tendon and muscle injuries. American Physical Therapy Association acknowledges the use of Electrotherapy for
Pain management
Treatment of neuromuscular dysfunction.
Improvement of local blood flow
Induces repeated stretching of contracted, shortened soft tissues
Tissue repair
Acute and chronic edema
Accelerates absorption rate
At our advanced Electrotherapy Clinic, we have qualified therapists who have years of experience in this domain. For availing these services and getting relief from above mentioned problems, please contact the team.