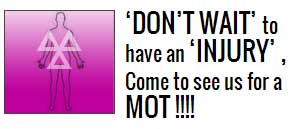 We routinely take our car to the motor vehicle service garage for an MOT even if it is running perfectly well. This is to make sure the car is safe and in good working condition. So why don't we do this for our body?
"Preventative management" is the key.
If you see a Physiotherapist @ CONTACT PHYSIOTHERAPY we are able to assess joint movement , strength, muscle length & function and relate this to the stresses which you put to the body. Whether it is poor posture with lengthy routine sitting or whether you part take in regular repetitive sporting activity.
Like a "car" the body will have small areas of stress which then can lead to "movement failure", potential "Injury" and potentially "pain" and "weakness".
Professional Athletes undergo regular screening and review and this is why they stay fit and why they minimise injury.
We advise that you come and see the team, where we can put you through the CONTACT PHYSIOTHERAPY' 'MOT' to make sure you stay on the right side of INJURY and PAIN and keep a "healthy working body".
We can then provide you with advice, guidance and treatment if required to make sure you stay on the "road" moving well.